Cape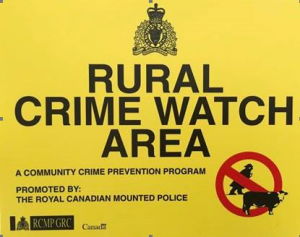 Coppermine RURAL CRIME WATCH PROGRAM
With the rise in crime in the Lac Du Bonnet and lake country areas in recent years, we felt we needed a means to report suspicious activity in the area. We discussed our concerns with John Fleming who is a retired RCMP officer and is also the Emergency Coordinator for the area. After several discussions we decided to initiate a Rural Crime Watch Program which we officially launched during Cape Coppermine Day on August long weekend 2017.
We aim to keep the process simple, so if you notice something that just doesn't look or feel right, then please report your information via email to capecoppermine3@gmail.com. This email is monitored regularly, and any information provided will be sorted and stored for future reference. It could be something like a strange vehicle in the area that you get license plate info on or footsteps in the snow during the winter leading down the driveway of your neighbor who you know is away. Then if something does actually happen, like a break-in in the area, this info can be given to the police to aid in their investigation. The key is not to pre-judge the information. Sometimes what you think isn't important could be added to other reports made and when combined together provides some solid information to the police.
We also have fridge magnets available that have this information on them so that you can keep it in a handy place for reference. If you would like to get a fridge magnet, please send your enquiry to capecoppermine2@gmail.com or contact one of the executive and they will help.
Lastly, If something serious happens that requires immediate attention contact the RCMP right away.
Thanks for helping to make Cape Coppermine a safer place to live and play by being a part of our Rural Crime Watch.
RCMP Phone Numbers
Lac Du Bonnet 204.345.6311
Whitemouth 204.348.2935